Refuge In The Storms Of Life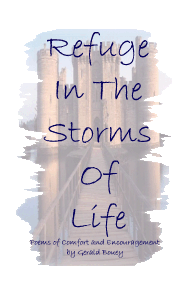 You can view this whole book as one continuous page by clicking here:
Alternatively, you can also view this next page and open it in your ebook reader.
Most programs should covert the page to a PDF:
Refuge In The Storms Of Life – by Jerry Bouey
---
This poetry book contains 37 poems about going through trials,
and the refuge found in the Lord Jesus Christ.
There are five sections and a Bible study called:
Leaning On The Lord
The sections (and the poems contained in each) are as follows:
(You can click on any link to view that page on this website.)
If you use the SwordSearcher Bible Program, you can download this book as a module.
Click here for the zipped file of Refuge
(**Updated October 7/2021**)
After unzipping, put the module in the "Swordsearcher User Modules"
folder in the SwordSearcher Bible Program.
Weathering The Storms
Poems on Going Through Trials
Calm Seas
Poems On Prayer and Dependence Upon The Lord
An Anchor For The Soul
Poems On Friendships and Close Fellowship With The Lord
Peaceful Skies Ahead
Poems on New Beginnings
The Master Of The Wind
Poems on The Preeminence Of Christ
Foreward
The eternal God is thy refuge,
and underneath are the everlasting arms…
Deuteronomy 33:27
Webster's 1828 Dictionary defines Refuge as: Shelter or protection from danger or distress. That which shelters or protects from danger, distress or calamity; a strong hold which protects by its strength, or a sanctuary which secures by its sacredness; any place inaccessible to an enemy.
I want this book to be a comfort to all who read its contents; a source of refuge to those going through the storms of life. As my Pastor always says, "You are either going through trials, coming out of them, or preparing to go into them."
The Scriptures and poems herein have one goal, to point to:
The Lord Jesus Christ.
The refuge He provides is found in the perfect salvation He offers by His death, burial and resurrection; complete pardon from sin and an eternal home in Heaven with our Lord.
Another definition Webster's gives for Refuge is to flee.
Jesus is our refuge to flee to in seasons of dangers, distress, and calamity in our lives. He is our stronghold, our sanctuary, and our strong tower to flee to from our enemies.
May all who read this book be encouraged to flee to Jesus Christ, first for salvation, and then for refuge in the storms of life.
Jerry (Gerald) Bouey